We've partnered up with Old Wood to provide their unique range of wood products from the Viveash Ranch, northeast of Santa Fe New Mexico! The ranch is over 2400acres in size and used to be prime forested lands.
However, it was struck by the Viveash Fire in 2000 and the Tres Lagunas Fire in 2013, which wiped out millions in timber logs in days.
Armed with only their ingenuity and the help of friends and family, the Old Wood brand was born, with the aim of looking for the highest and best use for the available timber in forms that are both attractive and useful for the users.
The main products are listed below in the standard formats. Further, we are able to custom make designs depending on the architects/designers intent to find the highest and best use for these small diameter logs.
Douglas Fir
Standard sizes: 3″x6″, 4″x4″, 4×6″ blocks (Hexagons also available)

Douglas fir is one of our best selling end grains because of its durability and identifiable color. Similar to Pine in many respects, it dries a dark umber color. It is considered more 'weatherly' and is overall tougher when aged. The photos below are examples of possible stains. There is a wide range of stains that can be used.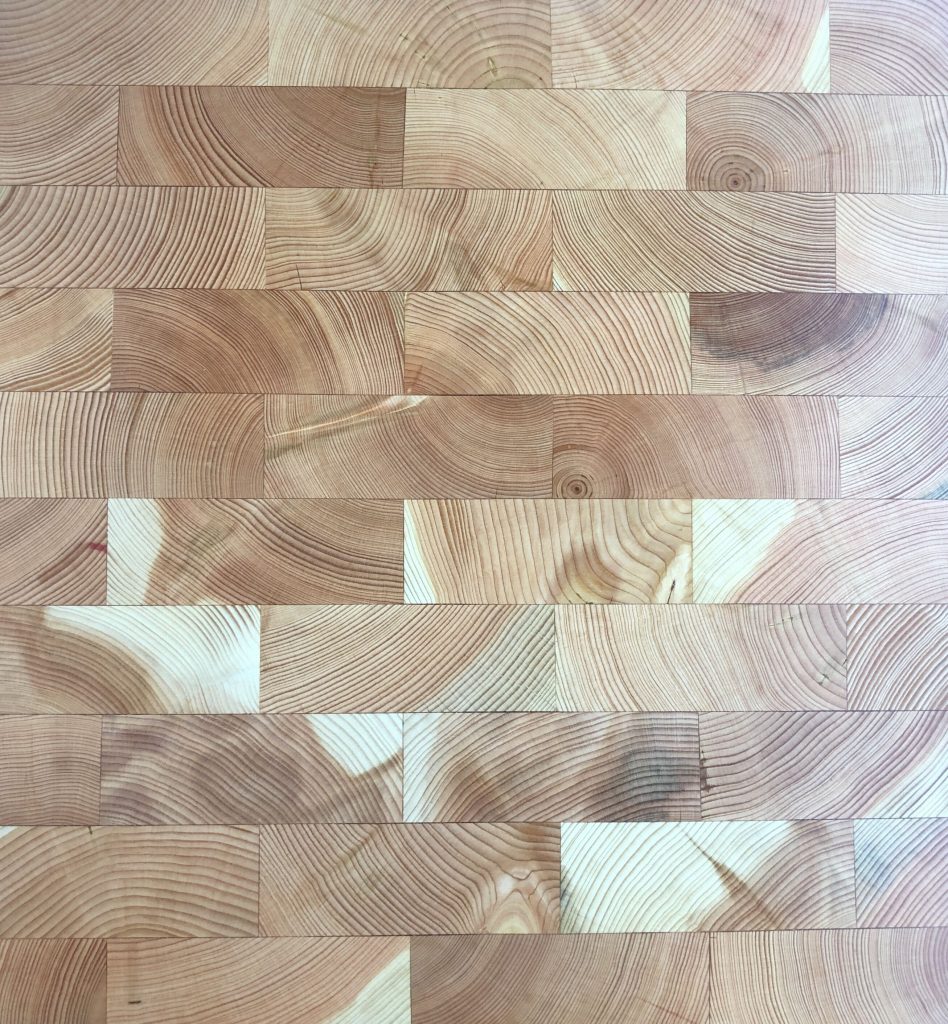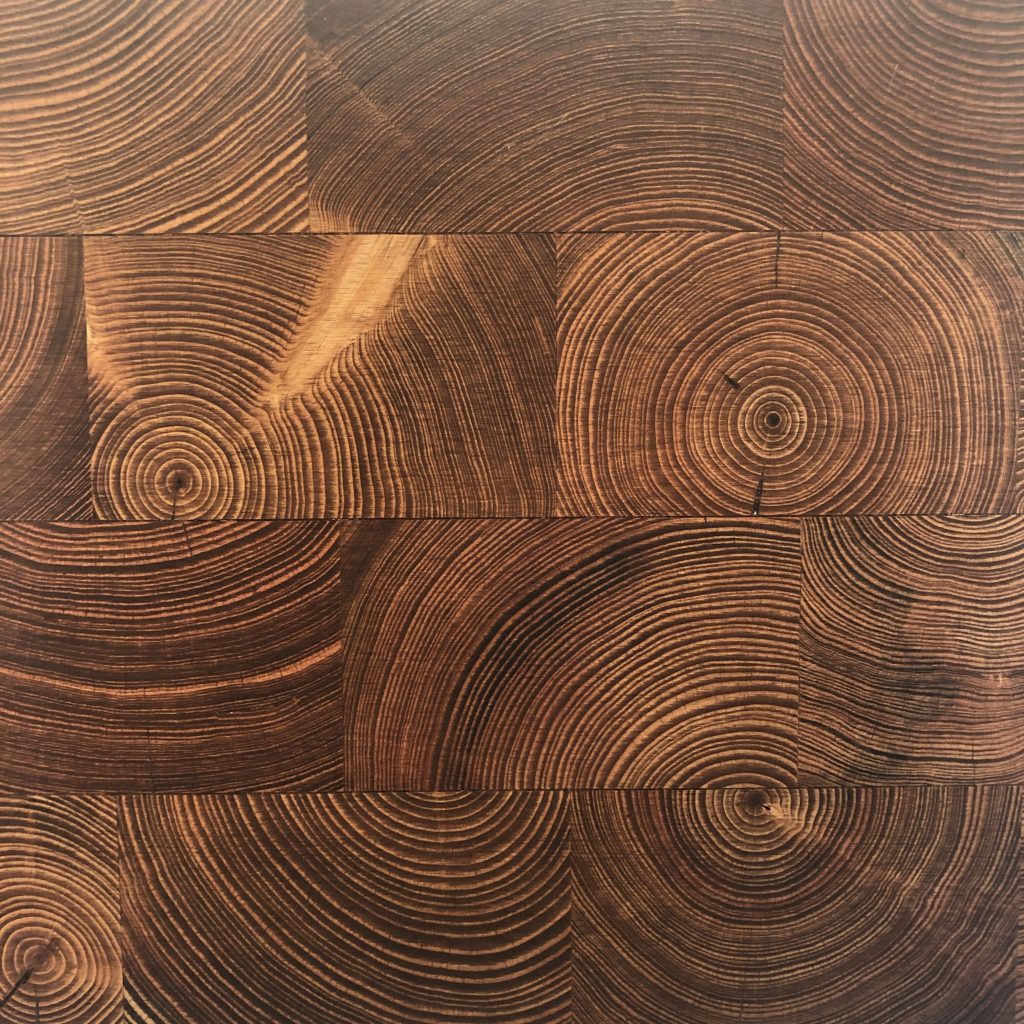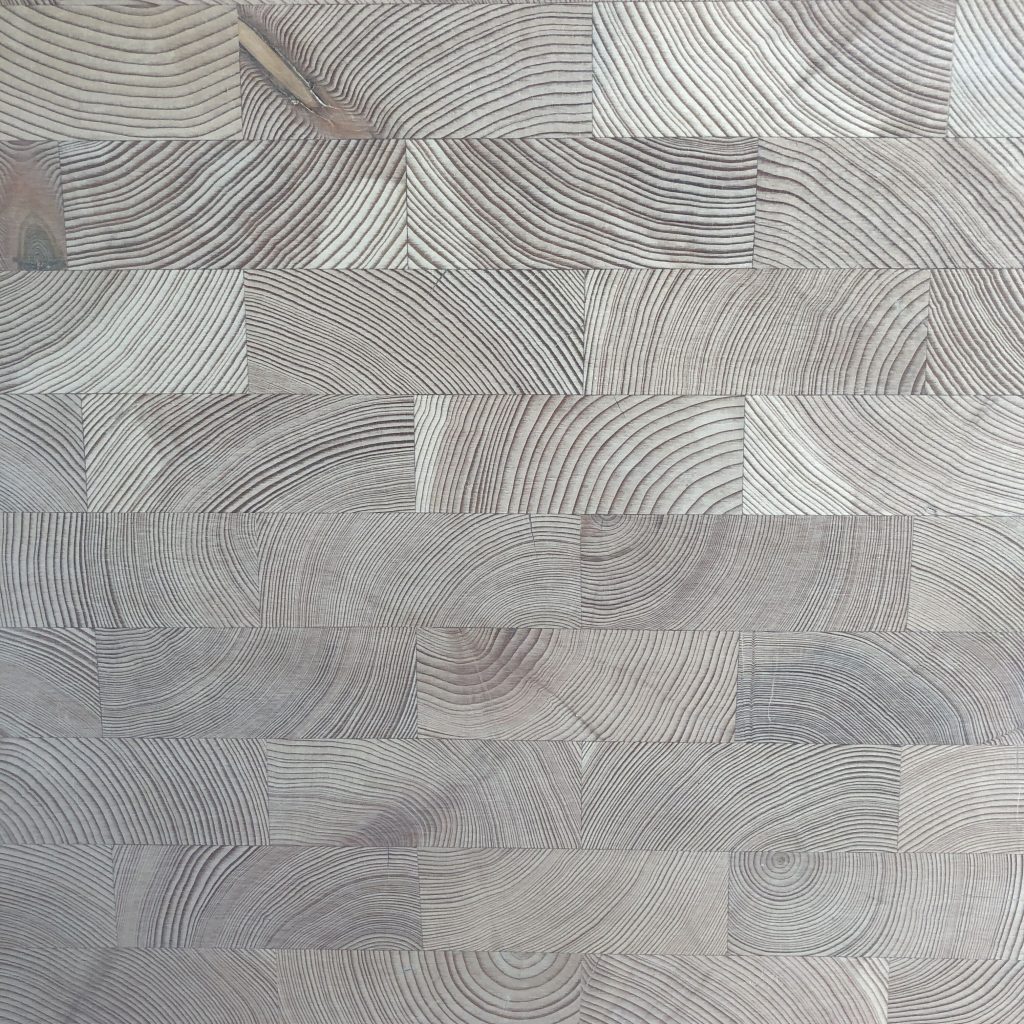 Project References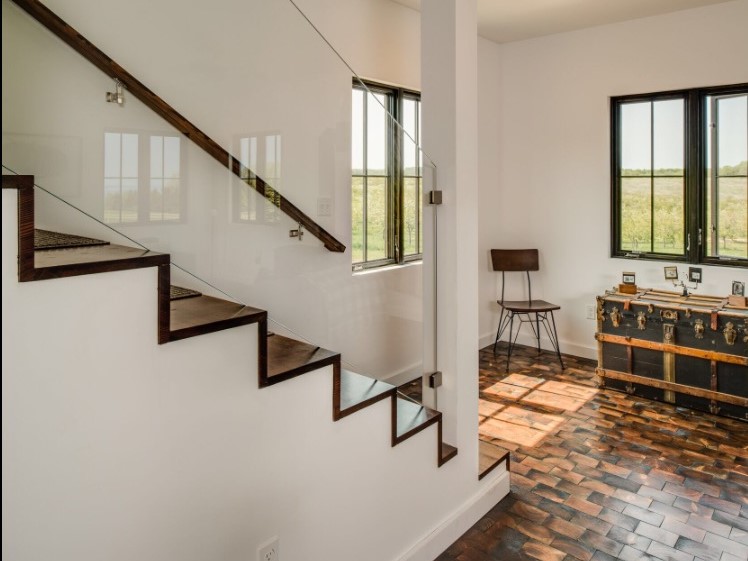 Ponderosa Pine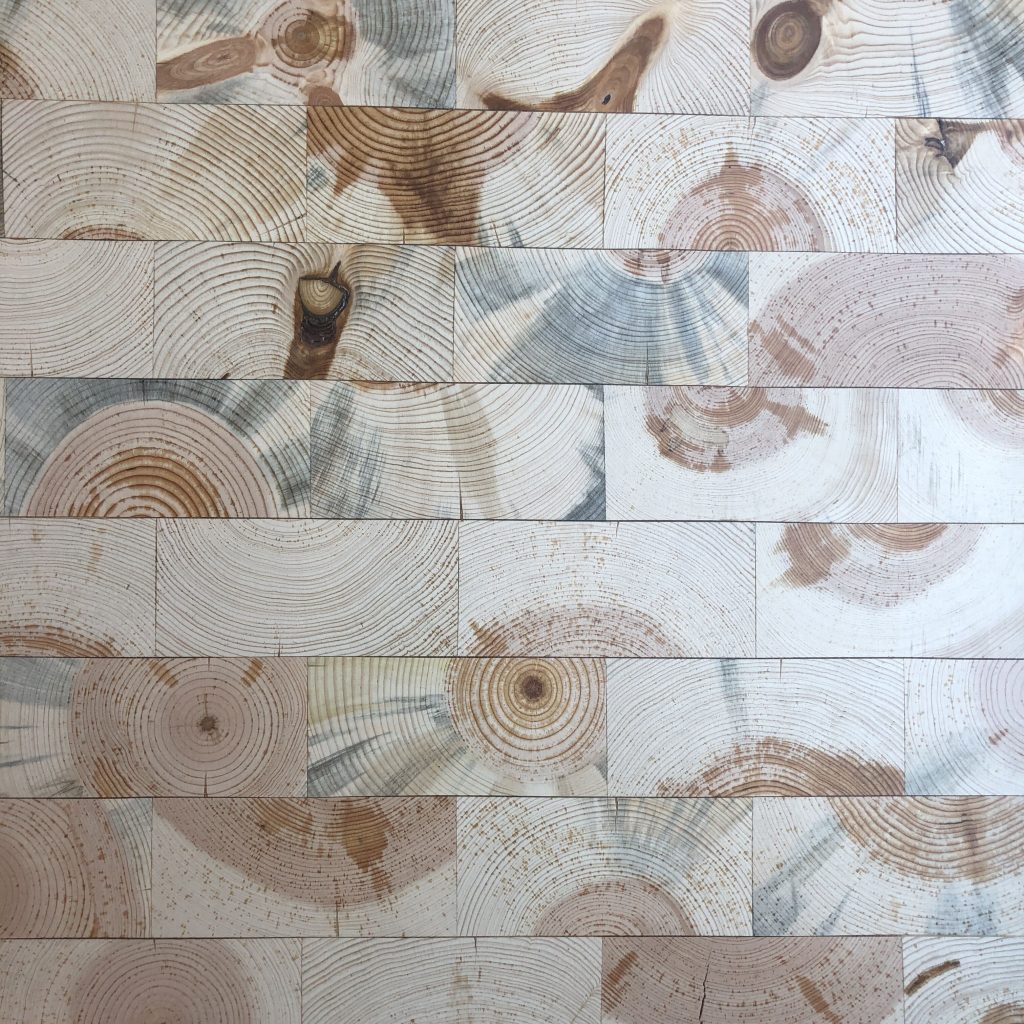 Standard Sizes 3″x6″, 4″x4″, 4″x6″ block, 3/4″ thick.
The image shows the blue stained Ponderosa Pine.
It was previously considered as a defect. However, it is now considered endemic and is not damaging to the wood so it is no longer considered a defect.
The blue stain is from the Bark Beetle, which was attracted to by the fires. It is purported to be caused by an enzyme in the bark beetles saliva or most recently it is postulated that it is caused by an a poorly understood powder under their wings which enters the trees fluid uptake system as they burrow into the tree to 'do their thing'.
Blue Stain, once properly dried is not hazardous and has no known human health considerations we are aware of. It can be limited by the application of bleaching agents or, better yet, simply admired and 'worked with'.
Oil, stains and urethane top coating can be used to color, treat and preserve the wood. One of the most popular models is to simply 'Snap' the clean, white and arctic-blue color by sanding the floor, filling it with a water based light colored filler and then 'capturing' or 'snapping' the color by topcoating with a good grade of water based urethane (NOT oil based which will yellow the wood). A two part catalysing urethane such as Advantage Coatings, Bona, Glitza or similar are all good choices.
If a uniform dark colored floor is desired, the application of any stain in the range of special walnut or darker reverses the colors rendering the blue virtually indistinguishable.
White Oak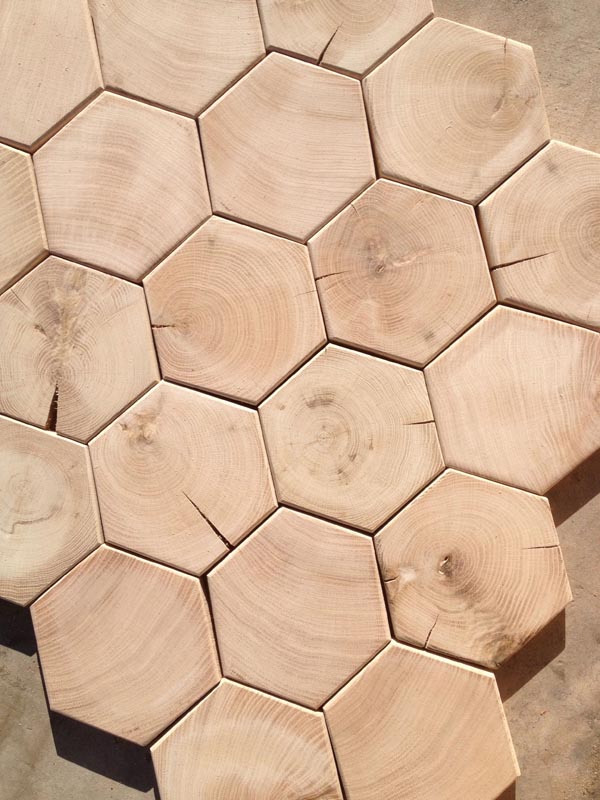 Standard Sizes: 3″x3″, 4″x4″
Our local teams are much more familiar with this species and it has been proven suitable for our climate.
The project reference below is for the JW Marriott Spa.
Mesquite
Mesquite is one of our overall best sellers because of its superior durability, tight grain, and rich, red colorations. At a janka rating of 2345, it's 80% harder than red oak! What makes it work so well as a floor is its stability. Mesquite does not expand and contract much when compared to other species, which makes it extremely suitable for most residential and commercial applications. Not so much a rare wood as it is a sparse, hard to harvest tree, it actually has been used around the world as a food source, arid land stabilizer and fuel wood.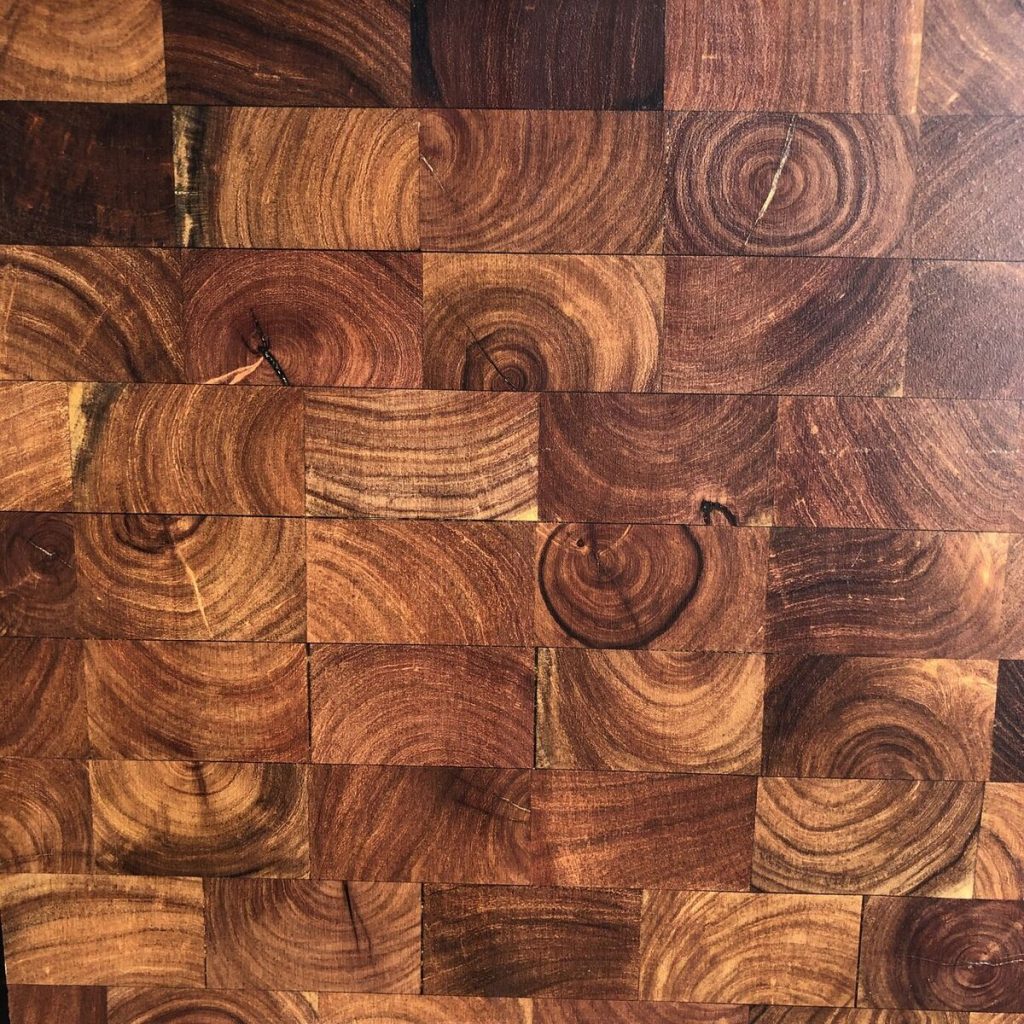 The image shows the grain of Mesquite with a natural stain.
It is available in 2″x3″, 2″x4″, 3″x4″, 3×3″ blocks with 3/4″ thickness. Custom sizes are available.