We are proud to announce that we are now the sole distributor for RESISTANT Building Boards – the new age medium density Multi-Purpose Magnesium Silicate Oxide Board.
It is a highly durable Non-Combustible board for use in applications that require a combination of sound insulation, moisture and thermal resistance as well as superior performance in fire. The board will not rot and can be used as an alternative to chipboard, plywood, or wood based cement particle board, where greater dimensional stability is required.
Green Environmentally Friendly Product
RESISTANT magnesium boards are manufactured using inorganic substances, CaCO, MgO, MgCl2, and alkaline resistant fibreglass mesh. The product is naturally cured using no energy through cold fusion, unlike similar competing autoclaved products.
Superior strength and flexibility is achieved by the introduction of layers of alkaline resistant glass fibre mesh.
Magnesium Cements are referred to as Green Cements as they reduce CO2 impact during production by more than 50% compared to the Ordinary Portland Cement (OPC) products.
Features of RESISTANT MgO Boards
Fire rated, Non Flammable, Non-Combustable – according to BS476 Part 4, BS EN ISO 1182 Euro Class A1
Thermal Insulated – Provides a high level of resistance to thermal movements during hot and cold cycles
Impact Resistant – Able to withstand abuse, including surface impact of 34N/mm2
Moisture & Water Resistant – Often used as a moisture barrier
Sound Insulation – Provides excellent sound insulation for walls, floors and ceilings.
Easy & Fast to Work With – Easy and simple to prepare and attach. The rough surface allows application of textured, cementitious renders or direct paint/wallpaper
Mould Resistant – Unlike paper faced/wood based products, Resistant does not contain cellulose, limiting mould growth.
Breathability – Ensures a healthy, durable working building with a natural ability to absorb and release moisture
Chemically stable – Produced from natural inorganic raw materials, resulting in a strong durable chemically stable board
Non-Hazardous to People and the Environment – Produced without asbestos or other inorganic fibres.
---
Multi-pro is a versatile passive fire protection board which will satisfy the needs of many type of projects. As well as being a dynamic board, Multi-pro is also very dimensionally stable and can be used in many forms of construction where plywood is currently used.
First BBA certified MgO board with extensive testing carried out by the body
Manufactured to EN 13501-1:2007 + A1:2009 for fire resistance
Non-load bearing partition wall (60 min. steel stud) fire test to BS EN 1364-1:1999
Key Applications
Non-load bearing fire resistant wall partitions
Load bearing fire resistant ceiling linings
Underside of canopies and porches
Lining for walkthroughs & communal areas
Retrofit & new build projects
Non-combustible boiler backer board
Large sheet tile backer
Soffit boards & cavity closers
Stove surrounds (12mm board)
Fire Rated Solid Wall Lining and Partition Wall
Large Sheet Tile Backer
Softfit Boards
Cavity Closer
---
Multi-proXS is the Xtra Strength magnesium oxide board (MgO) with extra embedded layers of highest grade reinforcing mesh developed to offer Category 1 racking strength with sector leading fire resistance performance.
A firm favourite in manufacturing facilities, Multi-Pro XS handles, cuts and fixes with no fear of edge damage or breakout even when gun nailed within 9mm of board edge. It offers the complete solution for applications plywood, OSB3 and gypsum based boards can't handle. This makes Multi-Pro XS the ideal choice for timber frame system build and off site construction techniques.
For offsite and modular markets, the Multi Pro XS can be faced with Plastisol Steel, Acrylic based Render systems or brick slips. Internally, fire rated laminated plasterboard is used to provide the internal finish of your choice.
Key Applications
Load bearing & non-load bearing fire resistant partitions
Fire resistant new-build & retro fit ceilings and floors
Timber frame and SIPS fire mitigation sheathing board
OSM, pods & park home manufacture (durable alternative to plywood)
Prisons, anti-vandal units & all high traffic locations or areas prone to abuse.
Solid fuel stove surround
Carrier board for external brick slips
---

Multi-rend is a premium BBA certified external render magnesium oxide carrier board. It is faster to fit than a brick layer can lay a block and is the perfect substitute for masonry substrates on all domestic and commercial projects due to its superior attributes.
It is a vapour permeable, A1 fire rated non combustible building board with excellent dimensional stability. Multi-Rend is moisture, frost, mould and impact resistant, offering an alternative to block and render, brick, masonry or cladding finish .
The heavily keyed surface of the Multi-rend board is perfectly designed and proven to successfully receive a wide range of finishes including various render types, paint, plaster and brickslips, making it the ideal choice for both internal and external applications. The boards must be fully dry and dust free prior to finishing with any type of finish.
The boards are used to form the external facades of domestic and commercial projects which utilise timber, steel or hybrid framed structures to achieve lightweight, fast-erecting, thermally efficient building envelopes with smaller footprints.
Unique Characteristics
A1 Non-combustible
Beathable
Low thermal and moisture expansion
High strength to thickness ratio
Lightweight
Easy Cut – Score and Snap
Impact resistant in accordance to ISO 7892
Keyed Surface
Both 9mm and 12mm Multi-Rend can be bent at a 8M Radius Curve.
Key Applications
Render carrier
EWI Systems
Brickslip & stone cladding carrier
External facades
Stove surrounds (12mm board)
---
MoistSure is a Magnesium Tile Backer Board for Walls and Floors. It provides a stable non-combustible, non-nutrient substrate for internal wet areas such as kitchens, utility rooms, bathrooms, shower cubicles and swimming pools.
Resistant offers a 25 year guarantee with the MoistSure board where it will not rot, crack or delaminate over this period of time. Further, it contains less than 0.5% of crystalline silica, making it one of the safest boards on the market today.
Key Applications
Internal fire rated walls
Internal wet areas – kitchen, bathroom, swimming pools
Areas of high moisture
Suitable for underfloor heating
Substrate for laminates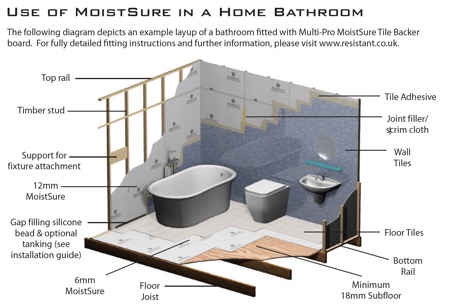 ---

Base Board is the perfect choice to create a fast build weather and air tight envelope with a sturdy breathable, easy-fix building board. Dual faced with a smooth surface and a heavily keyed reverse, Base board is ideal as both a sheathing and budget render carrier board. The boards are also fire rated giving your building envelope added protection.
Key Applications
Budget Render carrier
EWI Systems
Brickslip & stone cladding carrier
External facades
Non-combustible SFS rainscreen & infill sheathing
Volumetric and pod manufacture
Stove surrounds (12mm board)
And wherever you might have previously considered gypsum or plywood sheets and cement particle boards.
---
For more information on the Multi-Pro, Multi-Pro XS, Multi-Rend, Moist-Sure and Base Board, drop us an email at sales@ba.com.sg 
Cheers!