For this project, we took on the entire renovation including the demolition, installation of vinyl & carpet entrance, repainting, M&E works (electrical, data points, new LED lighting, air-conditioning). All in all, it was about 2 weeks total for a clean and sleek open concept office. But the real pièce de résistance was the acoustic felt wall!
This material has been increasing in popularity, no doubt due to the marketing efforts from echopanel. It has proven to be both functional and aesthetically pleasing.
The polyester felt panels typically come in sheets of 4ftx8ft in varying thickness. The most common thickness available is 9mm and 12mm. It is also possible to get the fire-rated version but these are subject to MOQ.
Most installations are direct mounted on the wall. This allows the user to use it as a tackboard as well. For optimal acoustic results, an air gap is required to achieve the listed NRC values. Otherwise, on its own the NRC value is about 0.2 -0.35.
Then they can be cut into various shapes via CNC depending on your requirements or design intent. Popular shapes include cubes, hexagons, and other custom shapes.
For this project, we cut the panels into 400×200 rectangles. The tenants were looking for a simplified version of the reference photo from our brochure using only 2 colours.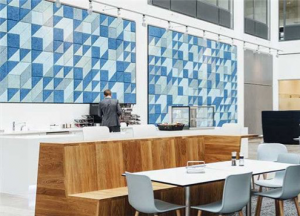 We presented a few options to the client but eventually settled on the above pattern for a clean look that incorporated their corporate colours while providing an acoustic function.
All in all, we had a great experience and it was a lot of fun to flex our design options to create a feature wall that we are proud of!
For more information, please contact us at sales@ba.com.sg
Cheers!