We were called in to provide a cost and time efficient method for an existing factory office to replace their carpet, while minimising impact to operations.
The original carpet was damaged by water seepage and was looking a little bald in a few areas due to wear and tear. It had not been replaced since the original installation more than 20 years ago.
The brief from the client was to provide a cost efficient material that will last for the next 20 years. We offered 2 options of materials, poly and nylon tiles.The cheaper option is poly, which has a large choice of patterns and a warranty of 5 years. This would be more suited for leased offices where the clients may not be in the same space after their lease term. In this case, the client owned the unit. As such, they chose the nylon carpet with some pattern, installed in quarter turn. The design has some texture to cover up potential stains and the nylon material provides a warranty of 15 years.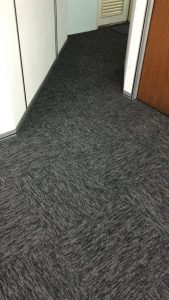 The black pattern was chosen to match the original design intent of the office.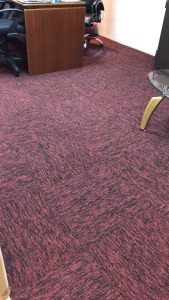 For the CEO's office, they went with the red pattern in order to differentiate it from the rest of the office.
To minimise disruption to the office, the works were carried out over two weekends. Our team had to literally pull their weight and help with the shifting of furniture to ensure a speedy handover to the client. We also took on the removal and disposal of the old carpet for the complete package.
For more information for your projects, drop us an email at sales@ba.com.sg for a quick chat!